Where are you now?
Monday, June 30, 2008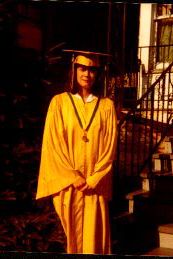 "I'm lovin' the 80s ~ Week 4 of June!!"
Here it is, high school graduation day 1982. The official first day of the rest of my life.
It makes you stop and think, all these years later. You had plans back then. Big plans. And hopes and dreams.
Have you accomplished what you thought you would? Are you where you want to be? Are the friends who were in your life then, in your life still?
If so, congratulations. If not, it's never too late.
As for myself, my life is nothing like what I thought it would be on that day 26 years ago. It's better.
A year ago, on my son's High School graduation day, as I reflected on my own, I couldn't have said that.