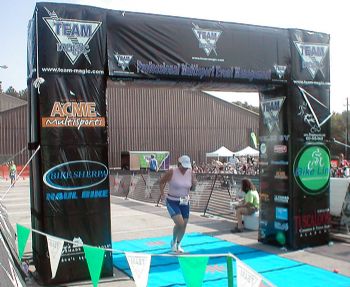 What I great weekend this was for me! Could I have a more supportive, and encouraging spouse?! I don't think so. :o) We left Mobile around 11:00 A.M. for Birmingham. We had reservations at the Marriott in Mountain Brook. (What a nice place it turned out to be!) We arrived in plenty of time to check into the hotel before heading to the Mountain Brook YMCA to register, pick up my packet, and attend the beginner clinics. I was so impressed by the folks running the "show". Everyone was so friendly and helpful! They treat first-timers like they are something special.
I could NOT go to sleep that night! I don't think I was scared, but I sure was excited. I had everything ready to go - my "tri bucket" had my goggles, bike helmet, number belt (with bib already pinned to it), water bottles, running shirt, running cap, sunglasses, towel, socks and running shoes, fitted out with the "bungee" shoe strings I'd been using for 2 weeks. I felt like I was as ready as I could be but I tossed and turned all night. I think I may have dozed a little bit, hehe.
We arrived at the "Y" at about 5:45 A.M. What a beautiful morning! It had rained buckets the evening before. In fact, Bill and I drove the bike route and could hardly see for the rain. But Saturday a.m. was perfect! I can't tell you how many times I re-arranged my gear at my station. I laid it all out, inverted my bucket to sit on later, and put my running shoes, socks, helmet, and sunglasses on top of it. (Marianne from my BT board gave me the bucket tip, and what a great tip it was!) Then it was off to body marking. Cool!
Unlike a traditional triathlon with an OWS (open water swim) and wave starts, the pool swim for the YTri is set up for an interval start. So they lined us up around the pool according to bib number. Wow, the wait was rough. I think that may have been the hardest part of the entire tri. (Ok ok, the 2 monster hills on the bike route were the toughest part, but the wait was hard too. *grin*) There is no doubt in my mind that I was ready for the swim. I started out with a good long steady stroke, but 2 lengths into the swim, I kind of freaked. The tension caught up with me I guess. That and a touch of claustrophobia because the lanes were very narrow and I kept running into the lane ropes. Bryan (my BT mentor) said my heart rate was probably way up and that makes a lot of sense because I totally panicked. I felt like I floundered through the remaining 6 lengths of the pool, and could barely breathe when I exited the water. But my heart rate calmed down a bit on the way to the bike. Whew!
I was determined NOT to race the bike course - I know better then to think that I can be competitive at this sport at my current weight. And I wanted to enjoy the bike course. The course leaves the YMCA parking light and goes through Mountain Brook Village before heading into some hilly, tree covered neighborhoods. There was a slight early morning mist, and the sun was just barely filtering down through the branches. It was not only a beautiful ride, it was idyllic! There was almost no traffic, and the bikers were smiling, cheerful, waving, and encouraging. There were volunteers and city policeman at every intersection stopping traffic and waving the bikers through. What an awesome ride! Uphill was - well - it was every bit as 'challenging' as I knew it would be. Ouch. BUT! I never had to walk my bike! I biked up EVERY hill! I didn't have a bike computer at that time, so I don't know what my speed was going uphill, but suffice it to say, I think I could have dismounted and walked my bike faster. *grin* And going downhill?!~ What a RUSH! Woohoo!
Coming back down into the village, I was able to rest my legs some, catch my breath and get ready for the run. My lumbering jog was just as slow as ever, but again, I never walked. I kept up a slow jog for the entire 2 miles. And that was my goal, no walking. I was so thrilled that I was able to accomplish it! The return part of the running loop was a gradual incline up to the "Y" and I was definitely struggling. When I was a couple a hundred yards or so from the finish, I could hear the cheering. It was worth everything I'd been through! And there was Bill cheering louder then everyone! He even yelled out once "You can do it, Juanita!" How awesome is that?! How could I fail?!
Crossing that finish line was like nothing I've ever experienced. A volunteer was right there to put participation medals around everyone's neck as they finished. It was wonderful! Wow, just wow. We were planning to leave Birmingham immediately because we wanted to drop in on Jeff at Auburn on the way home, but when the times were posted they showed me finishing first in my division and age group (Beginner Women Age 50 - 54). Ok, ok... so I was first out of 2 ladies in that group, but I was able to take the podium in my first triathlon! How special is that? There will never be another tri like this one. Wow.
And hey! I'm officially a triathlete!