More that just weight loss
Wednesday, June 25, 2008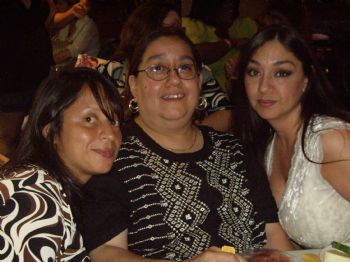 I haven't posted a blog in ages but I realized it was time.
This past weekend I had the opportunity to meet 2 of my spark friends. I had met them though our love of General Hospital. Our amazing team leader(who is always sharing information with us) Lori told us about an upcoming fan event.
My sparkfriends, Ester(retseretse) & Lisa (1basil) agreed to come down from northern california. The event was fun in itself, however the most fun I had was with these 2 special ladies. We went to the beach on Friday and then on Saturday we went to the event (but I dragged Lisa to the gym for a hour beforehand).
When I first joined sparkpeople I figured I might learn a couple of ways to maintain my weight loss. I never in a million years thought that I would make such good friends. Lisa and Lori are two of the many people that I spark with every day. I look forward to our conversations. When I am having a bad food/workout day or just a bad day period -they are there to get me back on track. It is amazing that a site can bring so many people together.
There are so many incredible teams out there with special people who open up their lives and hearts to others and we were all brought together by one common goal - a desire to get healthy and shed weight.
I just felt that I had to share that with everyone - thank you sparkpeople for bringing me such great friends.