Day 256: Maggie is home from SPAIN.
Tuesday, June 24, 2008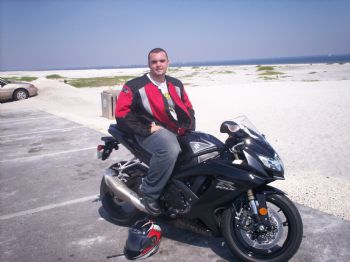 My dd, Maggie, got home from her study-aboard trip to Spain. Saturday I just had a horrible day worrying about her coming home and I grazed my way through 5200 calories. How do I know? Because I logged every single one of them. The photo is of Adam's new Suzuki, which he got this past week and that has been another real stress for me. Yes, I can hear my mother saying "You won't know what it is to worry until you have children of your own!!" Yes, Mother, you were RIGHT.
Thankfully, I went to Paul McKenna's "I Can Make You Thin" web site and did some of his exercises. Then I read some of the wonderful threads on the SparkTeam for "Shrink Yourself" by Roger Gould, M.D. which helped me to get the stress level down and back on track. WOW, I'm so glad I'm a SPARKER.
Now my son, Nick and his gf, Orora leave for SPAIN (no joke) on the 25th for a two week vacation. Maggie had talked to him about the trip since last fall and so they decided to go there. They fly into Lisbon and then take the train as gas/car rental was too expensive (plus parking fees). The movie company he works for just had the new "HULK" movie come out and it was a huge success, so he's going to enjoy this vacation.
I hope I can use the relaxation tips!!