Good Morning Rabbit
Tuesday, June 24, 2008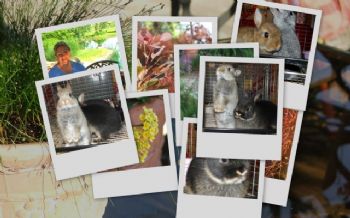 The photo above is a collection from this morning. After talking about our little bunnies on one of my favorite boards postings I decided to post a photo of the Netherland Dwarfs my daughter raises.
The photo of me is out on the deck near the pond. I'm enjoying the latest issue of Midwest Living. One of my favorite magazines for gardening and vacation ideas.
Off to enjoy the day!