I met Janet Evonovich!!!
Saturday, June 21, 2008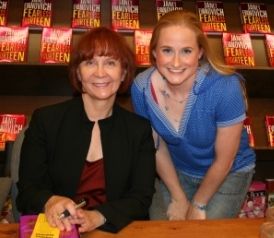 That's right! I met Janet Evonovich -- one of my absolute FAVORITE authors. It was so much fun and she is a really funny person - her personality reminds me a lot of Stephanie from her books.
A friend of mine and I went to a book signing last night just to meet her. You would think that standing in line would be really boring, but it wasn't. Everyone in line has read the same books as you, so you really connect with other people. Time flew by, and we were all having a blast.
We also got to meet her daughter Alex -- who by the way is hilarious!
It was a great girl's night out. I really want to do something like that again. Too bad I'm not a great writer -- I wish I could explain the night better so you all could have "been there"!