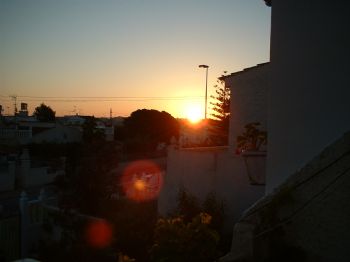 The Summer Solstice, or Litha, falls on 20 June at 23.59hrs UT in the Northern hemisphere this year. Usually it falls on 21st June but due to this year being a leap year we see it occurring on this date instead.
The Summer Solstice is known as one of the 'quarter days'- the days that divides the year evenly into quarters. It is the longest day of the year – the day when we see the most hours of sunlight.
In the pagan calendar this day is also known as Midsummer, because, for the pagan community, Summer officially starts at Beltain (on May 1) and ends on Lughnassahd (August 1) with this day falling in between the two.
The theme for this celebration revolves around the bounty of Summer and all it has to offer us.
It is a sacred time for both the Sun King and the Goddess.
The Sun King (God) is at his strongest and most powerful at this time of year, as he sends out his powerful rays of light to ensure his children will be well looked after in the later months.
His strength ensures the continuity of life in the face of the oncoming darkness. He is ever-living, ever-returning with virility, fertility and strength.
The Earth Mother, The Goddess is becoming Mother. The seed that was planted earlier at Beltain is growing in her womb and she blossoms with abundance and the promise of her gifts to come.
For our ancestors whose lives and survival depended entirely on the seasons, cattle and crops – it is easy to see what a wondrous time of year this would have been for them. Seeds have been planted and the soil has been worked, plants are growing and early crops are being harvested and enjoyed. It is now the time for relaxing, the days are carefree and full of fun and laughter.
The Solstice was a noisy, celebratory time, with singing, dancing, and drumming lasting the whole night through, a tradition which is kept alive thanks to music festivals, summer fétes and carnivals.It is also a mystical time when the forces of magic are increased and fairies roam our world. Fairies, elves and sprites are most easily seen at Mid-Summer, dancing in fairy rings. Let us join them in their dancing and gaiety.
Traditionally homes would be decked with such plants as birch, white lilies, roses, and Saint John's Wort. Mugwort, in particular, was gathered on the mid-Summer's eve, to be worn as head wreaths during the next day; these were then hung on the house or barn to act as protective charms for the ensuing year.
Mugwort grows abundantly in most places at this time of year and if you would like a special way to honour the solstice then gathering this herb is a nice way to do so. It is polite to ask permission of the plant first, explaining that you wish to honour the God and Goddess; then offer something in exchange. It can be anything you want.
As with most of the pagan festivals – fire played an important role at the solstice. We see the days start to lose their light from this point onwards, and many cultures encouraged the Sun to return by lighting bonfires, a tradition that is still carried out in many parts of the world today.
As modern pagans whose lives are most probably so far removed from those of our ancestors – we might wonder how we can incorporate the spirit of this festival into our busy days. But this is the whole essence of this time of year. It is telling us to relax a little – not be so caught up with work and stress – let us enjoy all our hard work and the fruits of our labour. Let us take holidays with our families and spend quality time together.
It is about being completely alive, just as we see the Earth also being. Everywhere you look, it is green and life is abundant.
Weave flowers in your hair, make daisy chains - dance and frolic barefooted. Know how fortunate you are to be a part of this wonderful circle of life and the turning wheel of the year. It is a time for personal growth and growing together as friends and families.
Why don't you have a barbecue? Feasts always played a huge part in festivals and celebrations and more so at this time of year when food is in abundance.
You can incorporate the whole essence of this festival in the one single act of something as simple as a barbecue. Invite friends and family; be together enjoying each other with food and fire. Perfect!
Whatever and however you decide to celebrate this day I hope you will be safe, happy and may you never thirst.
To check the exact time of the Solstice in your part of the world click here
www.archaeoastronomy.com
/2008.shtml