It is called a 'Cheat Day'
Thursday, June 19, 2008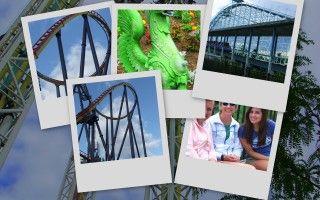 Random Shots from our trip to Cedar Point - I'm calling it my CHEAT DAY!
Yesterday when I logged on for my daily dose of Sparkpeople.com I was totally bummed to report that I had 'enjoyed' some Amusement Park food. Thoughts of not even signing on to avoid having to confess that I indulged a little on some good 'ol American Junk Food.
Today I realizing that I really didn't eat all that bad. The truth was it was a total FOOD -Gaz-Um (sunclay - sp??) when I had some of that fabulous Elephant Ear. WOW.... forgot how yummy loads of sugar and butter really is! BUT only a few bites. I did have some Huge Steak Fries - but that was all I had for lunch and I was careful to drink plenty of water. BTW - I am falling back into old habits sitting hear explaining what I ate and WHY. SOOOO..... ENOUGH..... Amusement Park day was my total CHEAT DAY (M-Rossi).
LOVED IT... we had a large party that headed off to the park. The family and kids and a wonderful time. The weather was very nice and we WALKED all day. My favorite part of the trip was watching everyone enjoy the CRAZY FAST Rides. I don't do the rides - that was back when I was their age ( mid 20's etc.) . Hats off to my hubbies sister who is in her late 40's and enjoys a good Roller Coaster Ride. :-)
Happy to be back Sparkin' I guess everyone is out in the garden working... totally slow here at the Veggie Garden Boards. Can't wait to hear how everyones summer is going.