When life gives you lemons.........
Wednesday, June 18, 2008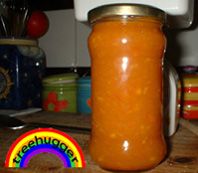 .....and Oranges.
Make Marmalade!
Ingredients:
Juice of 4 oranges
Peel from 2 oranges, cut into long thin slices (or chunkier if you like it like that)
Juice of 1 large lemon
1 teaspoon bicarbonate of soda
7 oranges
8 ounces granulated sugar
Squeeze the juice from 4 oranges and I large lemon and put in a jug - add 1 teaspoon of bicarb.
Peel the oranges and cut in half horizontally, this makes taking out the pips easier. Remove pips and cut away any white pithy bits. Chop into small chunks. Put the oranges and peel in a heavy based saucepan, add the juice mixture. Bring to boil then simmer for 1 hour (after 40 mins you will have to keep a real good eye on it all as it starts to thicken and reduce down - you don't want it to burn!)
Add the sugar and boil rapidly for 15 mins stirring all the time.
Place in clean sterilized jar, seal and let cool. Keep refrigerated.
This makes enough for one medium sized jar - so just double or treble the amounts to whatever you want.