Try, Try Again...
Monday, June 16, 2008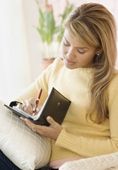 It's been a rough couple of months, but now that my tooth has a temporary & my nerve is not killing me, plus insurance is on it's way (July 1st), I should be fixed up on the Endometriosis side as well.
I am taking the next two weeks to re-evaluate my life & re-visit my goals. I have a long way to catch up to where I was physically since the pain is different every day. But am determined not to let it keep me from taking care of ME.
I have a plan, which includes my 5 a day, water & specific exercise minutes every week. My calorie intake has been fairly good & so my biggest obsticle is getting in the workouts.