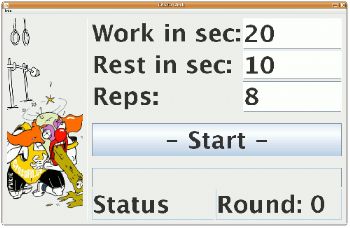 This is why I love sharing on MMM! Donna posted a youtube workout of High Intensity Interval Exercises that only lasts 4 minutes. I was ready to see this routine for several reasons: I have been working on my own Crossfit training (otherwise known as "HELL" for the past couple of weeks). And I have been wanting to get into exercising in the mornings without a whole lotta thought, a just "DO" kinda routine, that won't take up a lot of time either. Well, thanks to Donna, I have found it!
Tabata is the name of this high intensity routine, and just like Crossfit, you modify it to your own abilities. A Tabata workout is comprised of 20 seconds of max intensity exercise, followed by 10 seconds of rest, then repeated without pause 8 times for four minutes.
Background info for anyone interested. Tabata is named after "Dr. Izumi Tabata and a team of researchers from the National Institute of Fitness and Sports in Tokyo, Japan. Their groundbreaking 1996 study, published in the journal Medicine and Science in Sports & Exercise, provided documented evidence concerning the dramatic physiological benefits of high-intensity intermittent training. After just 6 weeks of testing, Dr. Tabata noted a 28% increase in anaerobic capacity in his subjects, along with a 14% increase in their ability to consume oxygen (V02Max). These results were witnessed in already physically fit athletes. The conclusion was that just four minutes of Tabata interval training could do more to boost aerobic and anaerobic capacity than an hour of endurance exercise."
My summary is: Dr. Tabata found a way to work smarter, not harder! I am ALL for that!
This is what Donna posted. I did it today but, Crossfit style which means I went for 20 minutes. I gave myself about 30 seconds between sets to rewind the video and take a little breathe! Holy Moly!
www.youtube.com/watch?v=
AimPOSXe7n4
You can download your own Tabata clock on from this site for free so you can easily keep track of your time! What do you have to lose except maybe Fat!! Bye, Bye Jiggle!
www.beach-fitness.com/ta
bata
THANK YOU DONNA!!!! You may have found the answer to my Morning Exercise Dilemma!! Priceless!!! Love ya Babe!