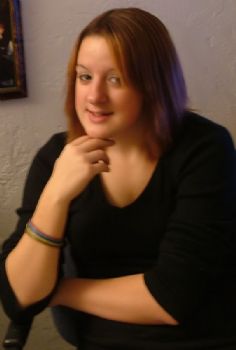 ~ So you want to here about the weekend?
Friday evening I arrived home from work and all of the grand kids were there. BB Jack, James and Katie. My heart was excited to see them, We were needing to get ready for the Graduation ceremony. So I marched them to the bed room to change their clothes. We went to the ceremony and pulled up to the curb to drop off my MIL, while we are assisting her I look and don't see Katie or the boys, Then I look around and see her talking to the Girls we are trying to keep her from ugggg.
Now I am assisting a 94 YOA snails pace walk to the front door of the school and also telling Katie to "GET OVER HERE NOW!!!" The boys came and finally Katie. Great! Now I have to worry about a possible Bolt here!
We find my sister and sit with her, I get MIL settled in her seat and sit by Katie, MIL is at the end of the row and wants me next to her. ARGGG Now I see some guys I went to school with.. I can't leave to go talk to them I have to stay with MIL and Katie. Ceremony was nice; I had 2 nieces graduate Friday night.
After Graduation we went to my sisters home to have a bite to eat and visit with family and friends. They were serving Spaghetti, sauce and Garlic bread. I had a small amount of sauce on garlic bread, I felt this choice was better than all of them, and it was late. On the way home the boys were begging to stay the night. We gladly took them up on the offer. Then the not so darling granddaughter also wanted to stay the night… I told her I wanted to have her over, however I don't trust her and I need to know I can trust you… I know you made plans when you were talking to your friends. Oh Grandma, no I didn't I just wanted to say hi to them. Nothing wrong with that!
We got home I still didn't answer her; we talked for quite a-while. She promised and I said OK. Well! The kids went to bed. I was getting MIL's pills together and we thought we heard a commotion; Jack walked to the other end of the house and as he was approaching her room heard the alarm on the window. I heard him yelling at something and I ran to the door. As I got outside I saw many cop cars and said do you have her? This voice yelled back who is her? I said our granddaughter just bolted out the window and she is a runaway. As I'm saying this I see 3 more cop cars approaching our home… I'm thinking what's really going on here? I go in the house to silence the alarms. Jack brings an officer into the house and we give him the low down.
Why all of the cop cars here so fast? Well our neighbor saw this car sitting on the road in front of our house so they called in a suspicious car. Then he hears the alarm and someone climbing out of the window and running to the car and the car jets. The neighbor follows the car a lil ways to get a direction of travel.. Well it went from suspicious car to Breaking and entering. We filed another report on our Granddaughter; I had a long conversation with God, had a Big Glass of Merlot and went to bed.
Saturday morning I went to MIL's room and hit redial on her phone (She only call her friends on that phone) well some young tired voice answered. I said! "You will have Katie at our house in one HOUR did you hear me?" Ummmm said the voice on the phone.. "YOU Will Have Katie at my home in the next hour, its 8:30 she will be here no later than 9:30 do you understand me?!?!?" Ummmm "Tell me yes or no!" OK.
I then remember that one of her friends called the house so I looked up the number and called. When the lil voice answered I said "Get Katie here now I am not waiting any longer" the voice said her mom was going to be leaving for work soon and would drop her off.
Well guess what?! We now know where she is so we call the law to go pick her up!
When they arrived, she was gone; the officer questioned the friend as to Katie's location. The officer called us and said Katie wasn't there, the friend told the officer Katie left in the middle of the night. Wrong! I told Jack he might want to call the friend and find out where Katie is and to use his firm voice. Now her friend told Jack that Katie was walking home and that she gave Katie her shoes and sweat shirt.
We called the officer and gave him that information. Humm she lied to me, not a good thing to do. I must go back and re question her and maybe arrest her. I'm going you GO Mister Officer Sir! In the mean time I e-mailed the officer some pictures that I downloaded off of a My Space page the girls use.
Officer get's to the house again and the friend isn't there. So Officer questioned the DAD. Dad was denying any wrong doing and wasn't really cooperating much, so Officer says come look at some stuff I have on my lap top. I understand you have a shop it this correct? Yes I do.
So is this a picture taken in your shop? Yes
Is this your daughter drinking a Keystone light in your shop? Yes
Are these kids drinking keystone light in your shop? Yes
It this fridge full of Keystone Light in your shop? Yes
Then the officer proceeded to show the dad comments made on the page. Not good!!! Needless to say Dad got a big eye opener, and has changed his way of thinking about his daughter's innocence.
I have done all I could and I needed to get ready for 2 Graduation BBQ's and my Dad's wedding reception. So I did! The BBQ's were great and so were the Graduates.. I am so proud of all of them!
The reception was great! Dad was Happy to see al who showed up.
Sunday Morning an Officer called and asked if any new news on Katie? I said not yet! We will call if we hear anything we will be calling you. Then I got the boys up to get ready for church. While we were in church Jacks Daughter got a phone call from the girl that took Katie and she told her where Katie was.
So Shani called the officer and said she needed his assistance to get her daughter back. They went to the house, Katie was there ! The officer told Katie she would end up in juvie if she was ever caught again running away. Told her it is OK for parents to hold you down to keep you home. Also told her he picks up on the average 3-4 runaway kids weekly and he has never seen the support of Parents and grandparents like this, and she is very lucky to have such a Great support Group…
You know! That is so sad that we have kids out there that don't have Love from an adult in a unconditional way!!
Thanks for letting we vent and share.
Note! Easter Morning was the first time she ran from My House.. I was sick.. I can only pray and Let God Handle this... I know it's baby steps till the end of this running.
Dear Heavenly Father, I want to represent You well today. Help me to use my words as a well trained ambassador. I pray that I will be a living love letter to those I meet every day.
In Jesus' Name,
Amen