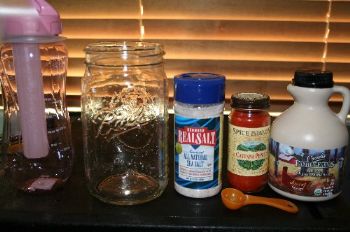 The picture shows the Master Cleanse arsenal:
1) Water bottle with number of ounces imprinted on bottle for accurate servings.
2) My 32 oz. Mason Jar for the Salt Water Flush (SWF)
3) Sea Salt (must be non-iodized salt)
4) Cayenne Pepper.
5) Organic Grade B Maple syrup
All that's missing is laxative tea (I'm using Senna), lemons and water.
____________________________
__________
OK, so I made it through day one. It was definitely a challenge. I just wanted one walnut or almond or Ruffle potato chip. Just one. But i did not.
WARNING: STOP READING HERE IF YOU DO NOT WANT TO READ ABOUT MY BODILY FUNCTIONS!!!!!!!!!!!
Today is a whole 'nother animal, folks. I started my cycle today. Probably not very good timing on my part so I'm experiencing effects of both a detox and natural body cleanse. And so far, they're working in harmony.
I slept for an inordinate amount of time today. Just very drowsy. But you must realize now that from this point forward, this experience is being shared from a menstruating female's p.o.v., so some things might not apply in your experience.
Woke at 7am to release what Senna laxative tea loosened. (is that ungross enough? I don't wanna turn people off but if you're considering doing this, you really don't wanna miss important details like this).
Went back to bed.
Drank Salt Water Flush (2 tsp of sea salt added to 32 oz purified water): 11am
11:40 am to 4:40pm: Watery eliminations. Lost count of how many. It was one after another between 11:40 and 12:40. But then I fell asleep until 2pm. And a few more sporadic ones later.
Still thinking of trying this?
PROS: I FEEL LIGHTER...HEH HEH
CONS: THE SWF IS VERY HARD TO CHOKE DOWN