My Walkin Buddy
Saturday, June 07, 2008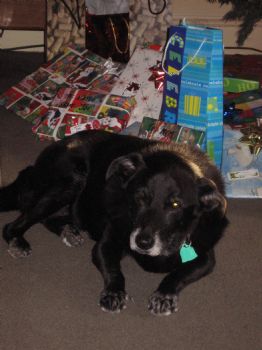 Today I lost my walking buddy, Ripley. Both of us suffer from osteoarthitis and her love of walking, kept me keeping on.
She had not been eating right the last 2 weeks, but still wanted to go for our walk. She was 14 yrs 9 mo old. My family rescued her from the street, literally, when she was about 3 months. We nursed through Parvo and she was like one of the kids. She is the reason that my middle child, Mike, is now a senior veterinarian student at VT.
I took her to her Vet, a wonderful woman, Dr.McCafferty, today. It was determined that Ripley was in kidney failure and at her age, there was no going back. She went calmly. And I was able to be with her.
Now my DH and I have to tell the kids.
It has been a hard day.
Just remember that pets are a gift. They accept us unconditionally and are there in the good times and the bad times. Never take them for granted. I will miss her greatly.
Thank you Ripley for the companionship and getting me walking as a regular exercise again. You meant so much to us and will be sorely missed.
I can only hopoe that you are in a place where you are able to run again and smell the roses.