Being healthy (& feeling great) never gets old!
Monday, June 02, 2008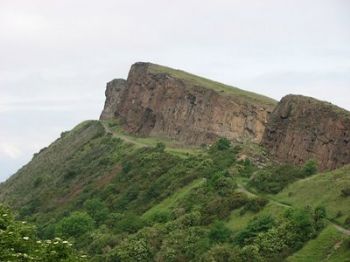 i just returned from a trip to england. we spent a few days in london, then hopped on a train to scotland and then returned to london to celebrate a family member's 50th b/day. although it rained alot, we had a great time - a great time i know i wouldn't have had 40-50lbs ago. we walked everywhere (and scotland is very hilly), we climbed arthur's seat (above), i party hardied w/100 complete strangers - all things i NEVER would have been comfortable doing a year ago. i loved every second of it all!! i climbed the stairs at the airport WITH luggage, we had to sprint to catch a train that 50 lbs ago would have left me stranded and even more rewarding than all that?? i felt completely comfortable in my skin at a party where i knew only my husband and the 5 others sitting at my table. not so long ago i would have dreaded every second of it, i would have sat at the table miserable, i would have covered myself up w/long sleeves and tried to find something to wear that would cinch me in and cover the reality hidden beneath the fabric. NO, not this time at all. i wore a dress that felt comfortable b/c it fit me properly, i danced so much my husband even begged me to sit b/c his feet were hurting, i mingled like i was the host, someone even called the next day to say i was the life of the party!! go figure!
anyhow, the point of this is to tell you all how much fun i had and how much more fun i'm looking forward to having LIVING in the new me, LIVING in the now and taking in everything that life has to offer. i so look forward to more travelling, to climbing higher and farther (literally and figuratively) than i ever imagined i could, pushing myself beyond what i think my limits are. the only one that can limit me is myself and i won't ever stand in the way again.
ps - as if that wasn't all wonderful enough, when i stepped on the scale this morning i hadn't gained a pound!!! all the moving, shaking and climbing we did was enough exercise to keep me exactly where i'm most comfortable.