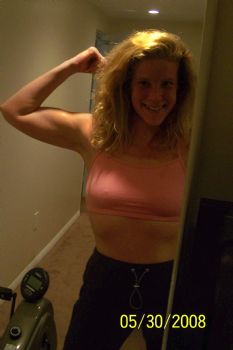 I wasn't feeling so good this morning. I had a pounding headache and I was craving dairy? Instead of my usual oatmeal, protein shake, or protein bar. I wanted two pieces of low-fat cheese on top of low-carb bread and after I ate it my headache went away.
I then went for a walk to get some sun. I walked a mile to the beach and back. I stopped at the local store 'cause I was still craving dairy so, I bought an 8 ounce tub of 1% cottage cheese to eat for lunch. I laughed at myself that my cravings are so specific and Healthy!! Usually if people are lacking calcium they crave chocolate, and my body knows better and goes straight to a better or healthier source. I then grabbed and took a handful of vitamins just to cover all the bases, and drank a protein shake.
I am getting back in tune with my body. I lost that fine tune when I had my surgery, I am excited and relieved to be getting back. Listen to your body, it is always trying to tell you something. It doesn't want the shet! Believe me.
Now, to my second craving. The need to workout! I did my second Whoop Ass Crossfit workout using a kettlebell. I have every legitimate excuse in the world NOT to workout, and yet I did it willingly because I know how much exercise benefits me. And so help me if I even have one ounce of energy in me, I WILL CHOOSE to exercise!!
My Whoop Ass Workout #2 set looked like this:
15 reps of Kettlebell Swings with 15 pound kettlebell
15 reps of Standing Twists with Kettlebell with 15 pound kettlebell
15 reps of Wide Legged Squats with Upright Row with 15 pound kettlebell
10 reps of Step ups with 15 pound kettlebell (that's 10 each leg)
10 reps of One Arm Dumbell Rows with 15 pound kettlebell
I did 5 sets with No Rest as fast as I could without breaking form for 20 minutes.
Does that look like the pic and workout of a sick woman??
Crazy, maybe?
Sick? I think Not!
The pic is of me right after my workout. I am dripping sweat, beat red, out of breathe, and exhausted yet look at that smile on my face. I DID IT!! JUST DO IT!!!!
What are Kettlebells...
www.youtube.com/watch?v=
gy5uU7ku-Lo