Good Morning America to Feature SparkPeople Member Thursday Morning
Wednesday, May 21, 2008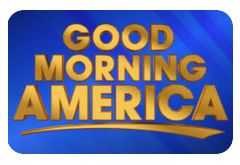 See her in separate interviews on "Inside Edition" & "Extra" Thursday evening
SparkPeople member Nichole Jones (
NichJones
) will appear on ABC's "Good Morning America" Thursday, May 22, at about 8:30 a.m. Eastern Time. We hope that her fellow SparkPeople members will tune in, tell their friends and support Nichole as she shares her amazing weight loss story and Spreads the Spark to millions of viewers nationwide. If you can't watch it live, don't forget to set your VCR or DVR to record it.
Over the last three years Nichole has transformed herself from a 240-pound mother of three to a svelte 135-pound fitness & figure competitor. But she wasn't alone on her journey; she found support and motivation from many SparkPeople members throughout the years. After reaching her weight loss and fitness goals, Nichole has remained an active "SparkPeople Motivator," providing inspiration and encouragement to other SparkPeople members just like you.
Nichole will also be appearing on two entertainment shows that air at different times around the country, so be sure to check out when
Inside Edition
(
local listings
) and
Extra
(
local listings
) air in your area.
Please leave a comment below to wish Nichole well as she prepares to head off to NYC and her whirlwind of television interviews!
Don't forget to tune-in to "GMA" Thursday at 8:30 a.m. to see Nichole's success firsthand!
Member Comments About This Blog Post
NATAVIA01


Nicole

Great Job!!!!! keep up the good work and I will be joining you soon I am on my way to 135ilbs myself I cannot wait


3638 days ago

SASSYCATS101
Wow, what an amazing woman you are. You look fabulous, congratulations on your accomplishments.


3645 days ago

ALEXMAD08
Congrats and Best wishes!!! Thanks for the motivation!!!


3645 days ago

SONIATHEQUEEN1


I´M ONE OF HUNDREDS OF ARGENTINIAN THAT WOULD LIKE TO SEE A PROGRAM ON TELEVISION, ESPECIALLY IF THAT HAS TO DO WITH SPARKPEOPLE. BUT IT´S IMPOSSIBLE HERE. WE CAN´T SEE THOSE PROGRAMS.
WOULD YOU IMPROVE THAT IN A WAY?
WE WANT TO SEE EVERYTHING THAT HAS TO DO WITH SPARKPEOPLE.
PLEASE, TRY TO SOLVE THAT.
THANK YOU VERY MUCH.


3647 days ago

SHEFALIA


Great! It would be interesting to listen your success. I am looking forward to attend your show.

Shefali Ajmera, MS, RD, LD


3647 days ago

WCBSFMROCKS!
Good luck! Thanks for supporting all of us "Spark People" out here!!


3647 days ago

FUCHSIA1


Nichole,

You go girl!!!!! You will be great, you totally rock as an inspiration to so many!!!! Good things come to good people;)


3647 days ago

FATBUTNICE
I very much am thankful to the Lord for helping me to find sparkpeople. I actually had prayed to him for a diet because I believe His is best. Sparkpeople was what I needed. Learning how to eat healthier, portion sizes and a beginners exercise program.
You are an inspiration to me because I started at 259, am now 249 and my goal weight is 140. You are also braver then me I prefer hiding in the shadows then being on the spotlight. I recently won a poetry contest that invited me to travel to Las Vegas but I wasn't going to get on that stage to give to read it. I stayed home.
Best wishes as you continue your journey.


3648 days ago

RETRACMJ
WOW - Nicole was AWESOME! What an inspiration to all of us!!


3648 days ago

DARLENEINMI
Good luck Nichole! You are an inspiration to us all.


3650 days ago

LSPROWL


Great Job Nichole!


3651 days ago

MOSUZIE
you represent the dreams of so many! thank you for the inspiration! God bless :)


3651 days ago

PHEONA3


Nichole: great job. Have fun on GMA-you earned it


3651 days ago

APRILSKY


Great job, Nichole! Thanks for speaking up about what a powerful tool the Spark People website is. You rock!


3651 days ago

TWINMOM4BOYS
How amazing and truly inspiring! I am just starting my journey, but looking at you I am so motivated to change myself. I know that I can do it. Thanks for being a great motivator!!


3651 days ago

MOMMIE27
Congrats on your weight loss! You are truly an inspiration to us all!



3652 days ago

SCARLETTOHARA66


Hey! They didn't let her talk about SPARKPEOPLE!


3652 days ago

TOY2XS
This is very motivating. I know now that I can achieve my goals as well. I am so happy my daughter stumbled upon SPARKTEEN- I was on hers so much I had to open my own account on SPARKPEOPLE. I am glad i did.


3652 days ago

IAMLOVED9779
Nichole, you are such an inspiration! Good luck on your success! Your story has helped me remember why I started this journey in the first place.




3652 days ago

DJATSW47
Nicole -- Now I realize why you are such a great team captain for us on the Walk Club! You are a real inspiration and if you could do it, I know I can, too!


3652 days ago

LEFTYMAE5454

Great Job and Thanks you have given me great motivation!


3652 days ago

JANETLEE40
Nichole you ROCK GIRL!!!!!!!! Thank you for your inspiration and telling everyone about who we are!!! Maybe we can beat the odds of America being obesed after all. I am looking forward to seeing you on the other shows and People Magazine. Congratulations for accomplishing such a great obstacles in your life and not giving up!!!


3652 days ago

DOLPHIN7769
on the weight loss Nicole. Give us who recently just started hope.


3652 days ago

KATIE233


Nichole great weight loss and telling all about sparks.


3652 days ago

INFAITH789
You are truly an inspiration. I started at 240 and was just thinking I need to try something a little faster but this was right on time. Thank you so much you have no idea how much you are helping me change my life by changing yours. I wish you the best.


3652 days ago

CIERAPOET
I did not get to see GMA, but I am sure to catch one of the other shows. Just because you succeeded I want to congratulate you and gain more hope for my own journey and success. Be blessed!!!




3652 days ago

KAREN19140
Nicole saw you and the other incredible women who lost weight on Extra. You all looked wonderful. Look forward to also reading the issue of People magazine too. You and the other women have shown, we can lose weight the healthy way, and not on some quick weight loss scheme. Or resort to surgery.




3652 days ago

LORT-C
Nichole you inspire all of us.


3652 days ago

HAPPYMOM24
It's good to know hard work really does pay off! This is motivational to the nth degree.


3652 days ago

HOLLYWOODCORKER
Nichole,


3652 days ago

YOYONOMORE1
Nicole you looked fantastic and congratulations on your weight loss, I wish you could have talked about Sparkpeople though, that was a big disappointment, especially when the other lady got to talk about LA weight loss program. I think this is the thrid time I've taken time out to be sure and watch programs with people on who were suppose to be able to tell what Sparkpeople has done for them and it didn't happen. I suppose people are told what they can talk about, but I don't think I'll tune in anymore. I know I am so thankful for Sparkpeople and all the support and encouragement I receive. Your picture in the bikini was great, you have accomplished a lot and are an inspiriation for the rest of us.

yoyonomore1
Shirl


3652 days ago

GRACELET


Great Job,
Thanks for telling your story to motivate others...


3652 days ago

CHASTITY00
Great job!!! Keep it up!!!


3652 days ago

JIBBIE49
I watched the interview and it was amazing that "LA WEIGHT LOSS" got the discussion, since I saw that it has gone "under" here in Florida. 20/20 did a show on complaints from members saying they'd spent as much as $3500 on the program buying supplements that the counselors "pushed." So the interview was a little surprising to me.
And then Sparkpeople wasn't even mentioned. BUT, Nichole you did fantastic!!!
We all give you hugs!!


3653 days ago

CBURROWS211
Congratulations. Watched you on GMA and you look great! Way to go!


3653 days ago

KOOCH4
Nicole , I saw the show , you rock , and a big on your success
Carol


3653 days ago



Comment edited on: 5/22/2008 8:52:17 PM
JNCOLE
way too go. Good luck


3653 days ago

VICKYWICKY1
All the best to both of ya! You have worked hard and deserve the accolades!

I was surprised that SP was never mentioned but, Jenny Craig was.

Who knows what happened. The way they edit and such.

By the way, you are stunning!
Vicky


3653 days ago

KOKOROCKY
WAY TO GO GIRL!!!!!!!!!


3653 days ago

FRENCHMARKET
Nichole!!!!


3653 days ago

QUIKSYLVER
Very cool! Spread the Spark!!!!


3653 days ago

BELLACUDDLES
You go girl!!!!!!!!!!!

Barbara


3653 days ago

CAROLYNCAT
You are an inspiration! Keep doing the right thing for you and your health.


3653 days ago

PATRIA920
Keep up the good work!!! GO GO GO!!!

Good Luck!!


3653 days ago

PWEAVER921
Way to go Nichole...... your story gives all of us that extra "shove" we need to keep on keeping on......


3653 days ago

QUEENG45
CONGRADULATIONS NICOLE KEEP UP THE GOOD WORK. THIS JOURNEY SEEMS EASY ,BUT ITS HARD AND THERE IS NOTHING BETTER THAN HAVING SOMEONE THAT MOTIVATES YOU , AND WILL SUPPORT YOU IN YOUR JOURNEY AS WELL . i JUST STARTED SPARKS JUST A MONTH OR SO AGO AND IM JUST REALLY GETTING THE EATING HABITS BETTER AND TRYING TO COME UP WITH SOME KIND OF WORKOUT ROUTINE. AGAIN NICOLE KEEP UP THE GOOD WORK, AND GOOD LUCK


3653 days ago

PEBR63
Nichole,

Your determination to reach your goals is inspiring!

Way to go!
Pam


3653 days ago

CHUNKSTER63
Dear Nichole,

Just think how many hurtles you have overcome, how many people you have he helped, how many millions of people saw you this morning & how many lives you touched with your success story,

In a world full of Hurt, War and Rising Prices it's so awesome to be pulled away from tha for just for a little while, to clear your mind and think about the possibilities if we do chose the right path towards losing weight.. You are a beacon of hope that we all search for, Your light shinning so bright brings more people to Spark People to where we actually do lose weight and help one another to and get in shape and healthy.

We needed to know and we need to grow and we are. Something new is happening , Who Knows where the road may lead us Only a fool could say so if you let me help you and the goonies help you. You'll be loved all the way.. All the way


Congrats to Nichole she has beaten her path deep now lets follow her.


Chunk


3653 days ago



Comment edited on: 5/22/2008 6:42:55 PM

OURDREAM121


You were great! Here I am doing my sit ups as every morning and there on my favorite show is a Spark member! That was really great and I hope to see more of them.


3653 days ago

NEW0817
i am so impressed. so from one Nicole to another Nichole


atta girl!!!


3653 days ago



Disclaimer: Weight loss results will vary from person to person. No individual result should be seen as a typical result of following the SparkPeople program.