big news!
Tuesday, May 13, 2008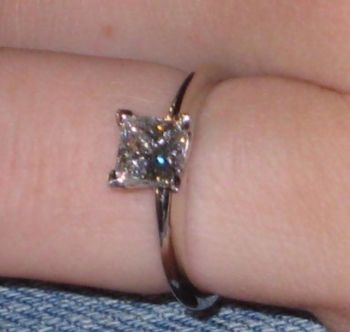 HOLY COW - i'm engaged! :D hooray!
ok, here's what happened: my bf dave was coming home for a short visit to celebrate our 2-year anniversary (he's currently finishing up his last few months of graduate school in honolulu at uh-manoa) on wednesday. i picked him up from the airport at 8am, and when he walked up to see me he was carrying flowers he'd brought with him from hawaii! i was hugging him and saying hello and stuff, and he said, "let's get married." now, we've discussed it before so i just said, "yeah, let's get married!" as in someday :) and then he pulls the ring out of his pocket and says, "no, really. will you marry me?" AAAHHHH i still can't believe it. i was super surprised! it was extra-romantic because our entire relationship has been back and forth between airports, and also because he knew that my favorite place to visit when i was a little girl was the airport :) i love him so much. we're planning on getting married in late summer or early fall of 2010 so we can have time to save, plan and try living in the same time zone for once ;)
and with our whirlwind weekend (he left sunday morning!) i barely had time to work out. now it's back to the grindstone - i've got a marathon to train for!
yippee :D