Swimsuit Bootcamp Workout Mid-Week Check-In
Tuesday, May 06, 2008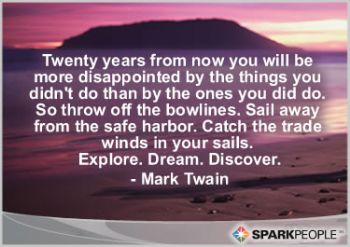 Today is day 3 of the swimsuit bootcamp. I have enjoyed it so far. I have decided to do my blogs on it on Wednesdays and Saturdays. I cannot take a before pic because my camera is broken. I did however log my stats.
Weight - 327 lbs.
Waist - 45.5 inches
Hips - 53.5 inches
Thighs - 26 inches
Arms - 18 inches
I am enjoying the workouts.They are a nice change from what I have been doing.
Day 1 I walked in place for the squat thrusts, I think that's what they are called,but I did everything else fine.
Day 2 I did the whole workout with no problem
Day 3 The workout was only 7 minutes so I did it twice. I did the push-ups in a doorway, not on the floor, and the tricep dips ! OH MY ! but I did them...twice.
I am eagerly awaiting tomorrow's workout. I have been doing the workout from the day before the next day before that workout(day 1 & day 2 on day 2, day 2 & day 3 on day 3 ). I will do that again tomorrow if I can walk after those tricep dips, from today, lol.
Have a great day. Make positive choices.
Take care of yourself,You deserve it.