20 lbs down looks good on me!
Monday, May 05, 2008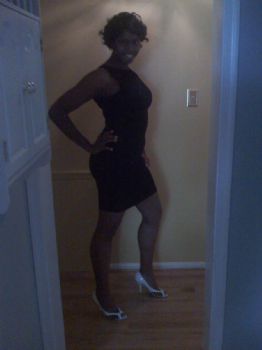 I'll post a picture as soon as my boyfriend sends it to me from his camera phone or as soon as I get one from one of the many photographs taken on Saturday but before I do, let me tell you that I must've looked horrible because I looked GOOD on Saturday!
My church held this mother-daughter brunch thing where you were supposed to get all dressed up in hat and gloves. I wasn't going at first because my mom passed in '06 but I went with my best friend's mom. I didn't know what I was going to wear but after I realized that I lost 20lbs, just for kicks, I tried on my 9th grade homecoming dress. It fit perfectly! (OK, it could've been a little looser but it wasn't so bad that I couldn't sit, stand, or perform normal functions as a woman. Put it like this: it was a little too tight for church but since this wasn't at church, just with church people, it was fine.) It was a black dress that has little slots on the top half of it. Since all I could find was white gloves, I went to DSW and found some 4'' white heels that had the black slots at the top that matched the dress. I also found a black sunhat at Rite-Aid. I looked good. I gave myself a wet set and worked it like I was some kind of runway model.
I got SO many compliments from the fact that I lost weight and how good I looked. Oh man! It was such a wonderful feeling. I felt like I had been on "What Not to Wear" and this was my "coming out" party to reveal the new me. Or like I was on "Extreme Home Makeover" and they "moved the bus" to see the new me. I was watching "Deion and Pilar (Sanders) Primetime" and Deion has this saying that held true for me on Saturday: "When you look good, you feel good; When you feel good, you play good; When you play good, they pay good." Now all the playing and paying thing didn't hold true but I sure looked and felt good. There were so many emotions that I was feeling that day but all of them were all positive and all towards the goal of where I want to be.
My boyfriend thinks that I'm getting to skinny and my trainer called me "bony" the other day. I just have really small arms for my shoulders to be so broad. I am by no means of any sense of the word skinny. I can't wait to post my new pics to have everyone see the new me!