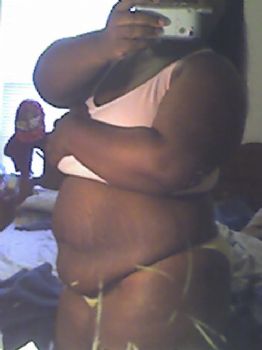 Man when is the baby due...YEAH RIGHT LIKE 2 YRS AGO!!!! Hello, hello, hello!! I am Christina, 28( soon to be 29 June 8), mommy of 4, soulmate to one great individual, and Jack of all trades!! This is the 2nd wk of the Fighting temptations and Fabulicious fit club challenge and the 1st wk of the Swimsuit bootcamp challenge. My goals are really really simple. I want, need, desire, to be fit, fine, healthy, and worry free. No really my goal for the Swimsuit challenge is to at least come out 8-10 lbs lighter. Now for being Fabulicious, I want to be about 46 lbs lighter. I want to increase my stamina and somewhere down the line, I want/need to run my first real 5k. I live for GOD, my better half and my babies. I have to be healthy enough to see them grow up and prosper. Plus I have a wedding dress that I am going to attempt to make myself and fit into like...IDK really soon, I hope!
Well, I fell off last wk because of the whip topping 1/2 sheet Hannah Montana birthday cake and the dang on brownies; but I didn't let it stop me now did I? I am even bold enough to say that I gained 2 lbs. However, my teammate may not be too thrilled by that; but hey mistakes happen, temptation is a _____ sometimes! That is why I try to pray daily to not be led into temptation and to be delivered from gluttony...evil food!!!
So here I stand, 5' 1, all 210.4 lbs of me. With my 15 in. neck, 17 in arms, 44in bust, 29in beautiful thunda thighs(wait until I get my muscles back), 44 in waist, 47 in hips, and 17.5in calf. Now the calf is just something I can't help, blame that on basketball, band, powerlifting and teaching my babies how to play baseball!!!!
So moving on to smaller(me) and better things; as my friend and team leaders would say, "I am a DONE Girl who is on Fiiyyaahhhh and definitely on my way to a big success and not a HoT mEsS!!!!"