Hair Today?
Thursday, May 01, 2008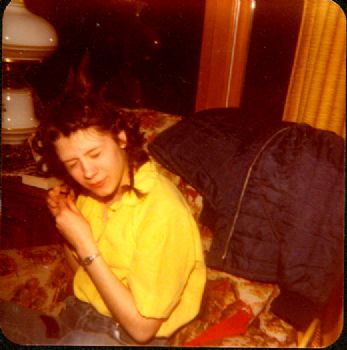 "I'm lovin' the 80s ~ Week 4 of April!!"
Alright, I know you're looking at this and wondering "What the...?"
Well, in my younger days I had a gorgeous, thick, mane of dark brown hair, Very full, heavy and luxurious. My crowning glory so to speak. I have since lost approximately 60% of the volume of my hair, and it is thin and lifeless unless it has a lot of help, but that's not what this is about.
Back then, my hair was so think, that I could wrap it around a finger, hold it for a bit, then spray a bit of AquaNet on it and voila! Instant ring curls. Likewise for small tiny braids, and I never needed to spend the money on a perm, and I could get the "big hair" look whenever I wanted, which was usually only on roller skating nights at the rink.
So here's me, braiding my hair into tiny little cornrows, getting ready to go roller skating that evening. Anyone else ever spend and hour and a half just on their hair?
Goofy picture, I know, but at least I finally found one without a guy in it.