The scale, oh the scale!!
Saturday, April 26, 2008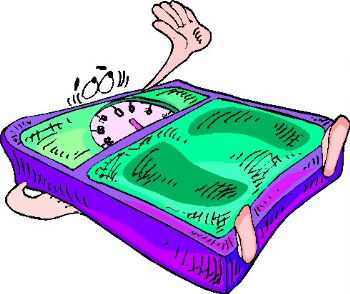 Okay so I have put the damn thing away! I am in a challenge with my maintenance group and we are not going to weigh ourselves until May 12th. Let me just tell you how hard it is not to step on the stupid thing in the morning. It calls to me. I put it in the laundry room so that way the calling is muffled my a wall and a door! It has just been plain driving me nuts and I am not seeing the results off of it I want and I don't want to get so frustrated that I start losing my motivation. Actually putting the thing away has peaked my motivation amazingly. This has been a great week for me -- I have been cycling my calories this week on my dieting range trying to ensure that I can get back down. It is pushing me to work harder so that way when I step back on it, it shows a loss. I will be hugely disappointed if it doesn't. I have been doing a lot more strength training so I think that might have something to do with it, too. I am really going to put a lot of focus back on to the strength. I have been going to the weight room after spinning and working my legs then on the Tue/Thur Hi/Low aerobics class that I have been doing, she works the abs and arms pretty good. I am hoping that will be making a difference. Combined wtih all of that, I am going to try to get in about 2 yoga pracitces a week...
It feels good to be working toward something again. It feels even better to take the emphasis off of the scale for a bit and put it back on my exercise and eating... where it should be anyway.
That being said, I tried the BOSU class yesterday and It was fun. I don't think my knees appreciated it much, but my muscles did -- I am a bit sore! I think I will stick with the spinning on Mon/Wed/Fri. I wanted to try the BOSU class and I am glad I did. Who knows, I might end up there again. I just love the variety that the Y offers me in the way of exercise. Anything I want to do, I can. My little guy LOVES to go and has a great time "playing with the little guys" as he so cutely puts it (it is funny because is is one of the littlest guys in there). The team goal thing here on SP has actually been a rather large motivator for me. It has been fun setting it up for the Healing team and the Losing it in Wyo team. I think that heading up the teams is a huge key for me to stay in the game here on SP. I love it, though. Once I get my weight back down on the lower end of my maintenance spectrum, I am going to start using the Google15 again (thanks, Anna for that one!). It is a fun little gadget that allows you to track trends in your weight, but the kicker is to weigh daily. Once I can get my weight back to where I want it to be, I will start using it. I still don't know what is up with my weight and scale. I think it might have been related to TOM -- there is really no other explanation. I haven't eaten bad, I exercise like a fiend so who knows... either way, I am still a healthy person and look forward to being able to start tracking on the Google 15. I have rambled on enough for today so I suppose I will go for now..............