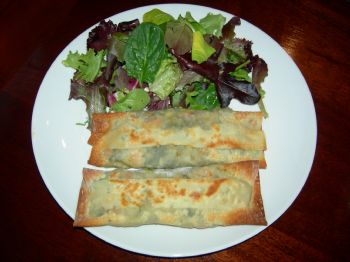 I love food. Wait, let me edit that: I love healthful, vegetarian food.
And I love to cook. No matter how exhausted I am, no matter how sick, how stressed, how busy, I cook dinner 95% of the time. I'm much more likely to skip a workout than skip making a nutritious meal. (That's not exactly a great habit, but hey, nobody's perfect!)
I'm starting a new blog entry series: What's for dinner?
I'll post about what I'm making (or what I've made for dinner), and I'll link to the recipe on SparkRecipes. I don't eat meat, so all my recipes are vegetarian. Occasionally you might find a seafood recipe, but I'm phasing that out of my diet.
I don't eat much dairy, so many of my recipes are vegan, too.
Last night was a Mexican-themed dish.
When you're cooking healthfully, sometimes you lose great textures, like crunchiness. I love Mexican food, but so much of it (in Ohio, where I live) is heavy and greasy.
I visited a new market near work and picked up a few items: 2 Haas avocados (don't fear avocados; their fat is heart-healthy!), a bunch of green onions, wonton wrappers, green chile-tomatillo salsa and low-fat plain yogurt.
I had a batch of baked sweet potato leftover from Monday night, a bunch of kale in the crisper and a can of black beans in the cupboard.
I whipped up kale, black bean and sweet potato "burritos."
recipes.sparkpeople.com/
recipe-detail.asp?recipe=2
90821
I used a smidge of canola oil spray on the top, then baked them at 400 for 15 minutes. They were crispy and delicious! We topped them with a bit of low-fat yogurt (so much better than sour cream) and a tablespoon of guacamole.
I did the math, and each burrito -- with a cup of salad greens topped with salsa -- was just 310 calories. I ate 1.5, and Fred ate two. We'll each be having the leftovers today for lunch.
Sounds good, doesn't it?
We're moving this weekend, so the rest of the week will be "clean out the fridge meals." Tonight: Tofu marinated in miso, ginger and sesame with kale, broccoli, scallions, celery and carrots, with quinoa or brown rice.
What will you be having?