Progress...
Wednesday, April 23, 2008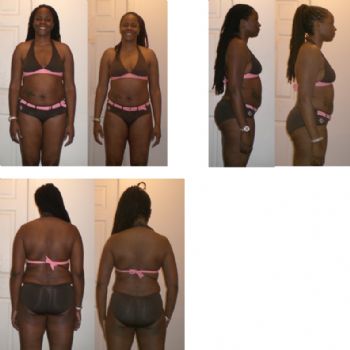 I haven't been on Spark in about 2-3 weeks and I've missed it. I've noticed that when I get caught up in 'life' and don't document what I eat or my workouts, I begin to fall off. Its so easy to fall back into habits of old. I can't have that. I took a picture recently to see if I'd made any progress. I look at myself EVERYDAY and swear I looked the same as before. Well, I was wrong! I can actually SEE the difference. I was amazed. It confirmed that all that hard work has really been doing something. The only thing that hasn't really changed is the scale. That blasted scale really gets under my skin. I haven't been on in a week and decided I won't get back on until my birthday next month.
I say all of that to say, I am BACK and ready to kick it into high gear. As long as I can fit COMFORTABLY in the fabulous dress I've purchased for my birthday party, the number on the scale will mean nothing!
Onward and upward!