EARTH DAY
Wednesday, April 23, 2008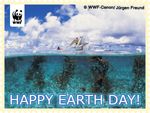 EARTH DAY
i'm not perfect at any of this, but it does amaze me how much better i am than a lot of people i know!!
so i'm going to work harder at work at getting others to re-cycle- and making sure we do it, i work with kids so i can work harder at teaching them besides making them do it
i hate to say that a lot of the staff are even worse than the kids!! but i'll try harder to lead by example
i have started getting paper bags at the grocery store- and then i use them to recycle my paper in
i'm pretty good at turning lights off when leaving rooms-- must be my parents voice in my head about wasting money!!
price of gas has me looking for others to car pool with- need to get better at that
so i'll work harder at my own efforts- and encouraging others