If Mama Ain't Happy, Ain't Nobody Happy!!
Wednesday, April 23, 2008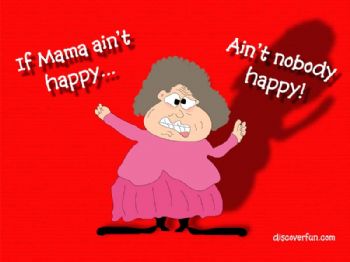 This was so true yesterday -- wow, I feel bad for my poor kiddos having to put up with me yesterday! I was GRUMPY!! It seems like the kids pick those times to fight with each other and irritate each other. Why is that? Hmmmmm.... Things improved a bit last night before bed, but it seemed like I was just irritable and crusty all night. I did some yoga before bed and that seemed to help out a bit. I am going to make it a better day today!! No more of the Mommy Grumpies!!
Okay I just need to put my scale away!! I am still up a bit -- 145.6 this morning. I guess I really need to start dilligently tracking what I am eating in my food tracker again. Part of my problem is that I haven't been on a "real" grocery shopping trip this week and I really need to go get some fresh fruits and veggies to snack on. I need to replenish my fruit bowl here at home something severe!! I her mixed things on daily weighing. I hear on one side of the coin it is supposed to help you keep yourself on track so that when it goes up, you can moderate it accordingly. But on the other hand, I hear that you can truly make yourself crazy by daily weighing because of the natural fluctuations that your body goes through. I don't know if that is what this is or not. I would love to say that is is muscle that is being built or my cycle with excess water hanging on, but I don't know. I don't usually have the water weight hanging on this late in the cycle. It has been a very weird month, though -- very nasty!! Probably the reason that I was grouchy yesterday. I can't complain thought, it has been the worst one that I have had in a long time. Things will smooth out and I will get back down to where I want to be. I am still technically at my goal weight, but I guess I would like to be at the lower end of things -- closer to 140. I am back to cycling my calories this week. Lots of water, too! I need to get that water in!! Sodium -- I really need to just get back down to brass tacks and start watching that stuff again! I really need to hit the grocery store, too! There are just not enough hours in the day -- it is making me crazy! Maybe I will hit the grocery store this afternoon when the kids get home. That might work!
Okay, enough of my rambling. I am going with the mantra: I think I can, I think I can! I will get rid of this excess poundage and keep rollin'!!