The woods are calling me....
Tuesday, April 22, 2008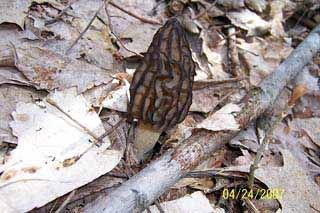 But the weather is not cooperating and it's getting me down. This is the time here in MI we normally can start hunting the elusive morel. I always look forward to this time, but in past years, this included, we have gotten some serious drought conditions going. We got over 100 inches of snowfall this past winter but that was quickly absorbed by the stressed out trees. So, everyone wish us, pray for us, whatever for rain!!!! I need the healing of a good hunt in the woods to keep me motivated as I've been slipping up and gaining some back. Today I've marked as a NEW DAY and am back to journaling and focusing on an "AOK" (act of kindness) that I'm going to do each day for the next month. It has to be something for either the planet, another living creature or another person. It also has to be something where you expect nothing in return other than the good feelings doing it gives you back! If everyone could make a point of doing this, the world would surely be a better place. Last of all, this is the 17th anniversary of my Dad's passing. He was an amazing man who lived to be 71 years young before succumbing to lung cancer due to a lifetime of smoking. I miss him dearly today and also mark this day a day to focus on taking care of myself better so I live past those 71 yrs. He was my old mushroom hunting buddy and I know he is with me in the woods whenever I go now. Here's to you Dad!!
Much love,
Lisa