I need a better before...
Thursday, April 17, 2008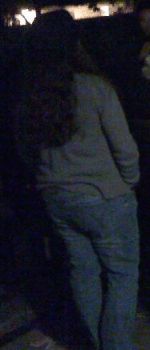 So I keep meaning to pull some of my fatty mcfatfat pics from xmas 2006 and post them so I have a true before, but I found one online that is about 20-25 lbs down from my highest weight (I thought I was lookin' GOOD then). Wow, its amazing how different my face looks even from a bad angle. The pic above is part of a picture that was sent around today to our friends - I actually wondered who it was at first but then I recognized my sweater. Look at that hot, muscular butt! Look at that not completely overstuffed sweater that looks somewhat proportionate to my bottom half! My hair even looks nice, hehe. So, yeah, just a silly, go me post. It's no wonder my fiance never recognizes me from the backside when we're out shopping, I barely did.
Skedadling outta here in about an hour, fast workout, then a really yummy looking new chinese food place for dinner, then...hopefully some sort of game. My parents have been here for 5 whole days and we've only gotten 2 games in. I protest this! We get along best when we are trying to beat each other, hehe.