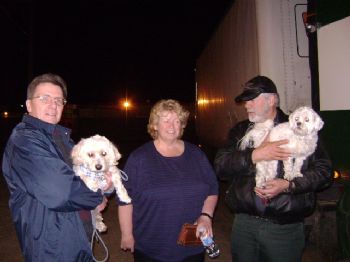 TOP OF THE WORLD...
Yesterday ... MONDAY. April 14
Ken and I went out to Maryfield where his sister was having thier farm auction sale.. as they are the last in the family to farm now..
And ...........
when Dianne (his sister ) saw me she gave me a big hug and said" you look like a teenager" " you 've lost alot of weight, you look so great.. "
i also had my hair a different style and makeup on .. but she said now i am alot smaller.. and she was sooo happy for me.. and then i just kept getting complimented after complimented... his mom and sisters and the sister in laws.. IT WAS GREAT.. my hard work was showing .. even though i don't seem to see much of a difference.. i know there is a difference but i see me every day.. but when the family notices then i knew it was not all in my head... or my middle .. I have a long way to go yet.. but i have a renewed hope.. and a new reason to try harder again..
i hope by my slacking off that now when i start anew and work hard again then besides the inches coming off maybe the scale will show a loss too. i so much want to be less .... if i could just loose this last 3 lbs to this first goal and then start working with the next 40 .. it is time . IT IS TIME. this time i am starting again .. and it will work...
WE CAN DO IT TOGETHER AND WE WILL...
SPRING IS HERE and the gardens need working in and the birds need to be listened to .. so
lets all start today and give the world a new look
LETS ALL GET OUT AND LISTEN TO THE BIRDS SING THE PRAISES.
and
LOOK AT THE NEW FLOWERS THAT ARE TRYING TO RISE TO THE SUN AND THE ONES THAT ARE ALREADY TO OPEN THIER PRETTY FACES TO US AND SMILE ..
TODAY IS A NEW DAY .. A NEW START...
i am off to do the tri.. see you all later..
HAVE A GREAT DAY CAUSE I KNOW I WILL