Rain Don't Stop De Carnival
Monday, April 14, 2008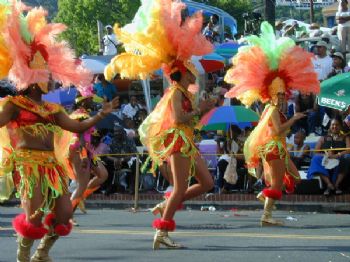 It's raining. It's pouring. We need the rain, the island is turning brown.
But it's Carnival, baby. Everyone is out and about, building the booths at the Carnival Village or getting their costumes ready for the parade or practicing steel pan music or going to the cultural shows and music all night long.
So rain don't stop de Carnival. Carnival goes on.
I'm looking forward to next week, when we have J'ouvert (early morning road march), Food Fair (for my shrimp roti), the parades, and fireworks on Saturday night. Oh, and of course being out of school since this is our Carnival break!
We be jammin'!