30 Day Shred
Friday, April 11, 2008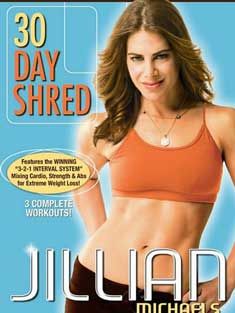 I finally got my copy in the mail after a long and impatient wait. Yay! Last night I did a 4.5 mile run and then came home to try my new dvd out. I did Level 1 with 8 pound weights and it was great! It was very MTC like and it felt like a good workout. I think it might be better to have a couple sets of dumbbells beside me while I workout. For a couple of the exercises I felt like 10 pounds would have been better, but then when I was doing the side lunges with the front raises I was wishing I'd brought my 5 pounds out of the closet. I'm a little sore today, but not MTC sore, it's mostly just my quads. I'm hoping to do it again tonight and really push myself.
Also, for those who don't have a heart rate monitor and are wondering how many calories you burn with the dvd, I looked at how many calories SP says I would burn if I were to enter it under circuit training and the difference between that and what my HRM told me was only 10 calories. So the SP is pretty accurate if you enter it as circuit training which is good to know.
The scale was down a pound this morning, but I'll wait a couple days to see if that sticks. I have my bridesmaid dress fitting tonight which is stressing me out. When I went in to pick my dress out they only had one size of the dress and it was way to big. They measured me and ordered a size based on my measurements, which I know is standard practice when it comes to bridal wear, but it scares me because I'm afraid the dress will be way too small. I'm just hoping the stupid thing fits so I don't have to spend a fortune on alterations. Being in a wedding costs enough as it is.