Thank you
Thursday, April 10, 2008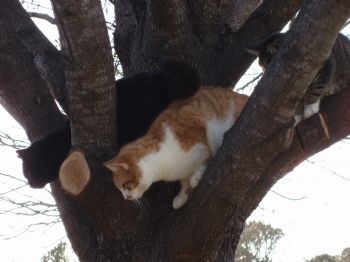 I just wanted to thank all of you who left me well wishes on my last blog. We buried BooKitty yesterday. I still expect to see her... I miss her a lot.
I tried to find a pic of her, and oddly enough, each one I have has her head turned! Ain't that the way it goes sometimes?
This one is her with her brother and sister up in a tree, they are watching a dog I think :) Boo is the black kitty.