What keeps holding me back on this journey...
Wednesday, April 09, 2008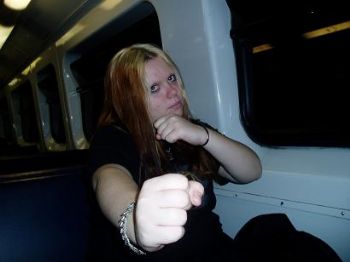 It took me 6 months to even lose 20 pounds on the WW program and keep it off then I had my daughter so some good that was...LOL....the pregnancy put it all back on plus extra and it's been a royal pain to get back off
again...doubt it ever will to be honest. It's just real disheartening
bustin my ass and gaining week after week....then get a huge loss then guess what back to gaining again and it aint all muscle eithwer cause I'm gaining on my measurements too for some reason.
I'm just so ready to go stuff it and learn to be blessed with what I
got....I dunno just Libb's passing have put alot of things into
perspective. She was always self concious about her weight then got leukemia....got down to goal because the disease was killin her, she got to goal IN A WEEK!! she had over 80lbs to lose! she was losing 10lbs A DAY!!
Just feels wrong to be obsessing over my weight when I have my health.
Right now I'm between a rock and a hard place with where should I go from here.
I think for me self acceptance is a HUGE issue, I kept getting told for 6 years straight by my ex fiancee and his family ythat I was fat and noone will ever love me cause I'm fat...even going as far as offerring to pay for the surgery...fast forward 3 years and he's married to a woman 3 times my size...work that one out for me cause I can't get my head around it!