One Year Spark Anniversary
Monday, April 07, 2008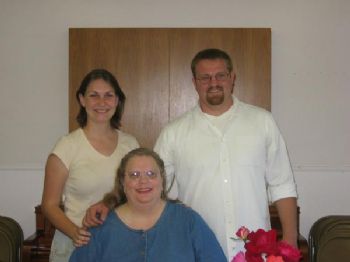 One year ago I finally had the courage to take a look at Sparkpeople.com and committed to truly trying to change my way of living. So much HAS changed since April 2007...
This past year brought learning about Spark and making baby steps toward health; the upheaval of the water damage in our apartment, which eventually led to our landlady forcing us out of our home altogether; my daughter's magical, wonderful, beautiful wedding on the PV cliffs; the stress and fallout from our traumatic move, searching for a better place to live to no avail, and depression following my daughter leaving home; regrouping emotionally and enjoying the 2007 holidays, entering 2008 with hope and growing joy, and finally feeling like we could unpack and make this our home after all; then, at the end, the death of my beloved son Scott, and trying to survive the greatest pain ever known.
It's been quite a roller coaster... and I know without Spark I wouldn't have made it through - at least, not without gaining dozens of pounds, and with a lot more pain, anger and anxiety.
Thank you from the bottom of my heart to all my Spark friends and teammates - you have made such a difference in my quality of life. May you all be well and happy, have peace of mind and heart, and live every day of your life to the fullest!