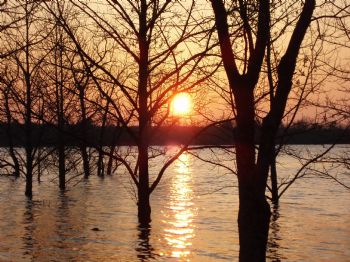 Aloha!
It's been a busy last few days. The weather did not cooperate one bit, so kayaking was out for Saturday. We ended up driving around and ended up at the Little Red River/Greers Ferry Lake at Heber Springs. Checked out a few camp sites, most of which were under water! The Lake was very high! Found a tarantula on a floating log, so my son caught it. Now we have a tarantula as a temporary pet! We might end up taking it to a nature center... anyhow. we had a good time. I took a pic of the sun near setting on the lake. That's it above.
Today my oldest son turned 17. It doesn't seem like he should be that old ya know... he just started kindergarten yesterday, didn't he? Did I blink? oh my gosh!!! They aren't little long enough.
I made him a Reese Cheesecake for his birthday. His two favorite sweets are cheesecake and reese cups! :) Yes, I had a piece and it was delicious. HIs gift from us was an acoustic guitar and case.
Sad news today, too... I lost my most precious cat. Sunday evening she was ran over, but took off running after that so I wasn't sure what had happened at the time. But I found her on our back porch and could tell something was very wrong. So I called a vet and he met me at his office Sunday evening. Turns out she did get ran over. Her abdomen was ripped on the inside and she had a massive hernia and collapsed lung. But still, the vet said with surgery she had a chance... but during surgery today she died. Her hearbeat was erratic and she stopped breathing. Doc said it may have been a blood clot, but he really wasn't sure because things seemed to be going well otherwise. I just can't believe she's gone. I miss her so much, she was my baby.
So, currently I'm full of mixed emotions... so sad to lose my BooKitty, yet celebrating and happy about my son's 17th birthday... :) the kayaking was to be FOR his bday as well, so that is just postponed for a Saturday with wonderful weather. Maybe next week... who knows.
I"ll be back to sp when I'm feeling better... gotta work things out right now ...and I am so behind in housework that it ain't even funny!
Spooky to Hotties, y'all keep things active there! I'll be back in on the challenge soon!
Low Carb Lifestylers, y'all too! We have 22 signed up for the Monthly Challenge for April right now! Surely we'll lose that 100 pounds this time! Keep recruiting! :)
I'll be back soon.
Big hugs to all.
~Renee'
PS... the pic didn't come out as brilliant up there as it really is.. .wonder why all the pics in blogs look hazed over? anyhow, I've added some to my gallery... check them out!... well I tried to add several and I keep getting an "error with my file" error. Was able to add two after several tries.