Oh so glad it's Friday!!
Friday, March 28, 2008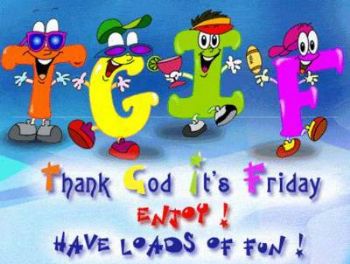 Things have been uneventful -- good uneventful, if that makes any sense? This has been a very nice week having the kiddos home for Spring Break. Glad everyone got over the crud. We haven't done much of anything, which is okay. We were supposed to go out of town, but because of everyone's not feeling good, we stayed. Gas prices being what they are, I was more than okay with that. I am going to miss the kids when they go back to school next week and I will be so glad when summer vacation lets out (remind me to re-visit this blog come mid-July and I am wondering when in the heck school starts back up, lol).
The only drag about is that the older two don't like going to the Y while I exercise. I don't know that in the heck I am going to do this summer. They think it is boring and I can see why. When the weather warms up, they will take the kids out to the park and things so that should make it better for them, but I told them point-blank that they are going to have to get over it and accept the fact that I am still going this summer. No way I am giving that up. Granted, I won't drag them there everyday, I will make a point to do some stuff here at home exercise-wise, but I plan on going about 3 times a week to the Y. That is MY thing and I am going to be selfish with it. I love my workout time and I just can't bring myself to give it up.
Weight has stayed rock-solid which is more than okay with me. After last week of not much exercising and not really adhering to my "good eating" I am very happy to see the scale at exactly where it was last time -- 143.6. I seem to bounce back and forth between 142.8 and 143.6. Both are under 145 so I am cool with that!! Maintenance is going very well for me. I have quit tracking my food intake -- I was quite frankly getting tired of it. So I just stick with what I know I need/should eat to maintain. I am still tracking my exercise. I like to see the hours bump up every day for my monthly tally. What can I say, I am a numbers person.
Just yoga for me today. It felt good -- power yoga. Not just the hanging out and stretching type and then I am set for my 3rd strength training session tomorrow. DH works so I am not going to get up early to do it. I am sleeping in -- well as much as Mr. Baby allows me to anyway. 7am is gravy for me. As long as he can allow me to go until then, I am good.
Not much else to report. I am just rambling, but it has been a few days since I blogged so I thought it was time. TGIF!!