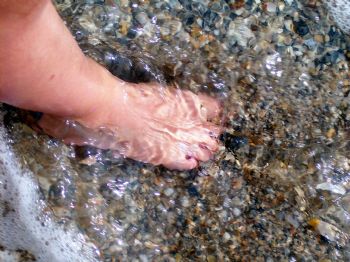 My girlfriend Amy is getting married next weekend on the beach (she's the one we had THE Bachelorette Party for...I'm tellin' ya, fan, you should have been there!), and since my entire family is of course going (hubby is the best man), and since Spring has definitely sprung down here the kids can't wear their...ahem...um...(I apologize to you, my Northerner fan) long sleeved shirts anymore, we had to go and get some new duds.
Hubby went with me to the Pit Of Hell That Is The Mall, which was actually nice because we didn't have the kids and that hasn't happened in about a bajillion years, so since we could actually browse in stores, we completely took advantage of it. "Oooh, honey! Look at these mini-flashlights!! Have you ever seen anything so BRIGHT in all your life?!?" "Paint swatches?!? I LOVE PAINT SWATCHES!!!!"
So after we get clothes for hubby, and for E and for N, including shoes and socks and bathing suits...where is Butter going to go that's in the Mall, for fabulous clothes??? You betcha, TORRID!!! Hubby was a Torrid virgin, plus shopping for women's clothes isn't what you would call his favorite way to pass the time, but he's a good sport and put on his game face, just for me. We walk in, the music is pumping and the girls are all like, "Hey there!" and it is ON.
So if you're like me, and once again I'm pretty durn sure you are, you take about 5 to 10(00) things into the dressing room hoping and praying and promising your first-born that just ONE THING will fit (who cares if it's 1 sock, it fits, d*mmit!!!! ). I walk in with 2 bras, 5 dresses, one sweater and one set of Spanxx, aka a "tuck-ee in-ee".
(WARNING!!! TANGENT ALERT!!!! )
You know what I'm talking about, the "undergarment" that promises to take your size 24 body and cram it into a size 12 shape? I hate 'em but gotta have 'em, plus Oprah AND Tyra swear by them, so I thought WTH, they BOTH can't be wrong, right?? Trust me on this, fan, they were DEAD ON RIGHT!!! Spanxx. Get them. Wear them. Love them. And the best part? They have an "added bonus", so that you don't have to pull the entire thing off to go to the little girls' room, and THAT, my dear fan, is worth it's weight in gold to me!!!
OKAY. SO. Now that you know what I brought IN with me, guess what I took OUT with me? 4 dresses, 4 bras, the sweater, the Spanxx and a little bottle of perfume. I felt so HOT!!! And the bras have got my girls all up and saying "So THIS is what the world looks like!" (UPDATE: The guys at work were having one hell of a time trying to keep their eyes on my FACE, that is how obvious the difference is! Tee-hee!)
And on a side note, I felt so good this morning, locking the girls into place, that I didn't even care about E having slept in Play-Dough, causing it to be cemented to her head, gluing half her hair with it! Nope, I just washed her hair the 7 times it took to get it out with a nice, big SMILE!!!
S. :)