for those who dont think they can maintain......
Thursday, March 27, 2008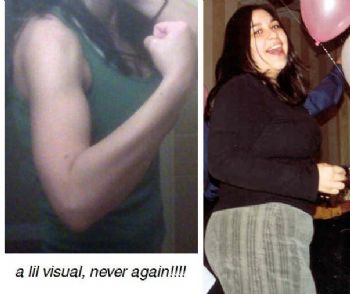 everything you do or DONT do in this life is your choice! i not only continue with portion control but i do a few calculations in my head of what im about to put into my body! i've never left a mall and felt good about myself till just a few days ago so with incentive like that its not as hard to watch my weight, though i do remember it being quite the task when i was larger.... with portion control you still have to watch, somethings may be tiny and loaded with unnecessary calories soda juices beer condiments like mayo, when you cut the wasteful stuff out you can have more of the things you like and as you learn on this weight loss journey how to eat and still feel good, you'll learn that jolly ranchers may taste good but not as amazing as natures real candy, Ocean Spray's craisins, sun dried cranberries i dont even like cranberry juice but im in LOVE with my craisins, they're sweet and delicious and if i liked nuts i would eat them too cause they are a great healthy high protein snack! i eat ALL the time i mean, fruit in the morn or a yogurt, some cereal, a handful of raspberries or strawberries, i like clementines and tangerines, cheese stix a sm 90 calorie snack... i never gave these things a chance when i was a big girl my own discrimination against "healthy" foods, but i will tell you this much i discriminate everyday now its just the greasy fast food monster i avoid, one serving of fries is all the calories you need for one whole meal so i stay far away from that, maybe once a month i'll have some but to tell you the truth i dont even miss them, none of my friends try to kill me whenever i have them around sooo why the hell should i keep greasy unhealthy things around to sabotage me! i have a super bare fridge and pantry.... and i continue to live an active lifestyle! i actually said out loud for the first time in my entire life: i love the way i look and i meant it and i didnt feel conceited or bad about it, i've worked my ass off to look and feel this way and i know for a fact it is possible... so i tell myself STILL everyday never again! i'll never loose sight of the bigger picture i want to love me and be healthy and feel good so yea i'll keep watching my portions and cal intake for the rest of my life... but ITS WORTH IT cause IM WORTH IT!