Week's Up & Downs
Sunday, March 23, 2008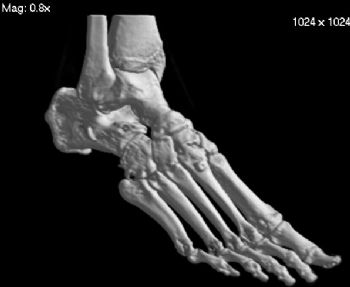 Happy Easter
I brought my Mountian bike in to get serviced yesterday. I need to start riding it to work now, or soon. The gas the truck uses is crazy and I can add to my exercise and fun getting to work. The daylight is longer now and soon it will be so long it won't matter. Still cool, about zero to 10 in the morning warming up to freezing midafternoon.
Not a good week for getting to exercise. Between my husbands broken leg and getting a cold I missed two evening workouts. I also haven't had the time to upday my tracking stuff here, I do have it all written dowm.
I saw the report on my foot, the fusion didn't take but I haven't talked to the Dr. yet. I did talk with the PA who refered me and we went over all sort of options, none really great like 12 more weeks non-weight bearing. All the CT scan stuff on the computer is really cool. The picture I put with this blog is my foot, you can see the screw head. THis was really neat, you can spin the foot all around. The slice through the foot let you see a lot. I was also able to get a copy of the MRI a year ago and it was great to see that detail too.
We played hockey yesterday because today is Easter. We lost, no goalie, but we did well.
I am going to go workout and have fun later.