media's mirror
Tuesday, March 18, 2008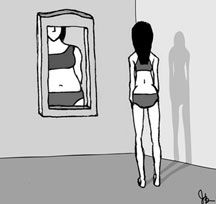 when will i stop doing this to myself? when will i stop looking in the mirror or at a photograph and not think, "wow i look fat"? i should know better! i am not overweight, in fact i'm actually a healthy size for my height. i have to stop letting the media control my body image, i have to remember i'm not a plastic mould like a barbie nor do i have professionals airbrushing my every photo.
but what is with the media in that they put perfect-looking fakes on the cover of their magazines or in their tv shows? why can't they put normal girls there instead, ones that weigh as a majority of the female population do? the sad thing is that if we see someone like that in a magazine we make fun of them for being fatter than the others, but how did we get this way? when will we all stop striving for the nearly impossible body image, an ideal?
when i was attempting to take a shot of my new shirt and after checking out the snaps i ended up freaking thinking i was horribly over-weight. i know i'm not, intellectually i acknowledge i'm pretty friggen good but i dont look like a cover model so emotionally i flip out thinking i'm less than perfect. so what if i have saggy arms and love handles? i'll bet that the cover models do as well in their photos prior to computerized modification! i've started to work out and these things take time. i have to find the fine line between making a healthy me and going to the extremes. i want to be proud of me and be comfortable with what i look like without sacrificing my health to do so.
lets check out some ideals over the ages shall we? we'll be starting with the 1920's showgirl louise brooks, to a 1950's actress marilyn monroe, then a 1980's model cindy crawford, ending with a 2000's actress keira knightly. these images are getting progressively thinner until bones actually are readily apparent. now i dont know about you, but i dont like looking at skeletons. its so unhealthy that excessively skinny people literally make my stomach turn. its one thing to be naturally thin as long as you are proportionate but quite another to turn yourself into a bobble-head doll!
we all have days that we think we look fat so we need remove the fun house mirrors and face that while we might not reach the ideal body aesthetic, that image is not what is ideal for our body's health. so lets be rid of those twiggy-like models and come back to voluptuous vamps shall we? no more thinking the norm is obese, but playing up what God gave us. ya gotta flaunt what ya got!