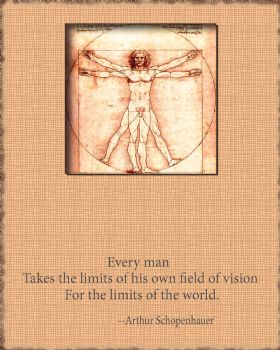 I have been thinking about how we all *feel* as though we live in isolated little bubbles of personal space untouched by anyone around us, unless we either give someone permission to enter our "personal space" or are invaded without granting such permission.
The truth is much different from that. We are all inter-connected in more ways than we can appreciate, even though it feels as though we have separation. The problem with this illusion of separation that we all hold within ourselves, is that we can start to believe our own thoughts as being the only *Right* thoughts, our feelings and beliefs as being the only *Right* ones.
When we start to grasp the challenging concept that all the atoms and molecules on this planet are part of one great Whole, then we can sometimes dimly perceive that our thoughts, feelings and beliefs are also only part of one greater unity.
All living beings are challenged in the aspect of our being able to see only from our own frame of reference. We feel a stretch when we sit with an open mind to take in what others think, feel, and need as their truth--and, because we are ultimately connected--their truth is part of OUR truth, as well.
Thinking about our world as one huge inter-connected Unified Being alters my ability to feel quite as critical of what other people do with their lives. I don't have to like it, but I do have to recognize that, at deepest roots, I am part of them, and they are part of me. We are not separate units, each living apart from the other and only connecting in certain defined areas. We are all sharing the same air, the same planet, the same particles of being-ness that lead us to be alive.
Choices I make are influenced by others--people I've never met who made choices that influenced people I know, who have influenced me. Likewise, my decisions and actions influence and touch others on this planet. Even though I'll never see or meet them. That is an awesome realization.
How hard it is to realize this and then continue to look at others ever again in the same way. It is difficult to use the pronoun *They* without understanding that *I* am part of *They* as well. What I do affects others, even when it feels secret, or when it seems as though only I am affected by my decisions and actions. And I am always being affected by the decisions, beliefs and actions of all of the beings who inhabit this planet with me.
This concept begs us to look differently at each other, at all the animals, vegetables and minerals of this planet differently. To look at ourselves and our underlying inter-connectedness with ALL other beings on this planet differently.