happy st paddy's day!
Monday, March 17, 2008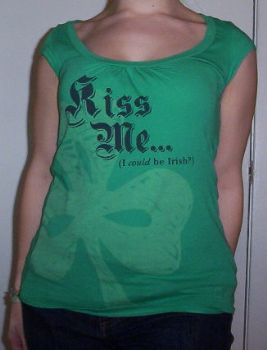 this is one of my favorite days each year... not that i ever really do anything most times but i love to revel in my irish roots. as i did not want to keep my merriness at home i took a walk downtown to stop by work for a visit and got plenty of hugs and spread irish cheer. so not only did i get exercise, but enjoyed the sunshine, and warmth of friends. all in all, a rather good day which i needed after yesterday.
LATER: i spent the last few minutes trying to get a picture of my shirt and i was never so horrified by my arms. they are so fat they are dimpling! why did i never notice how disgusting my arms were??? this is the least offensive shot i could find where my arms and stomach weren't gross and still showed off my cute new top.
EVEN LATER: ok so i have been thwapped on all sides, not just by sparkers but friends and family who were within hearing. i am not hideous, i'm just having a stupid-moment. i beg pardon for my freak out. i will keep telling myself how great i look right up to till the hawties at karaoke tell me how sexy i am *nods firmly*