Blizzard 2008
Sunday, March 09, 2008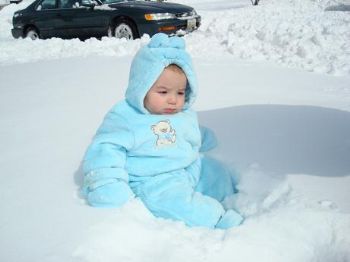 So we've survived it. The Blizzard of '08. Only 20 inches of snow. I don't mind staying home...as long as I know I can go out if I want to. But being "stuck" at home while the snow is blowing and knowing that I can't run out to grab something at the store has a way of unnerving me. So...I ate.
Weird thoughts of how I should bake something. I don't even like to bake. It was funny that I spoke with my mom and a friend and my mother in law and they all felt the same urge...."I should bake something"...Happily I didn't. BUT...I made egg salad, grilled three cheese sandwiches with tomato basil soup, rotisseried a turkey, made turkey, avocado and cheese sandwiches, ate Cheetos (why did I even buy cheetos????), had Trader Joe's Garlic Hummus....and pita chips....sausage dip, chicken chilie verde dip...I mean what in the world????? Oh and then to top it all off I made Hamburger Helper Lasagna...and threw in some Chocolate Peanut Butter Chex Mix....
Holy helper Batman!!! Mind you I had this over a couple of days...and I can't eat a lot at one sitting...but I grazed. GAG!!! Then last night I felt totally sick. I prayed...I'll never eat Hamburger Helper again...it's gotta be it that is making me sick...I'll never eat Chex mix again....Please God, Help me! Then I got sick...twice. Praying I wouldn't need to go to the hospital...because there was no way we were getting out of the driveway.
I woke up feeling better today. God spared my life. :) I threw away the chex mix and the leftover HH lasagna. Started my day with 1/2 egg salad sandwich and coffee. Then borrowed the neighbors snow shovel and went out for a workout in the snow. LOVED it!!!
It's time to stop screwing around. Time to eat right, feed my family right, work out and clean up my life and my house!!! :)
I'll start on this stuff tomorrow.