I love SP!!!!
Saturday, March 08, 2008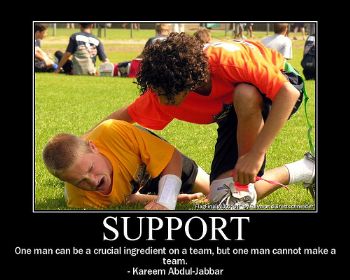 I have been reading blogs this morning and I had this overwhelming feeling of what SP really is. I have always really enjoyed being here, but I am now amazed by the amount of support and encouragement that there truly is here! I read a couple of really touching blogs (thanks for sharing Chipoltle) and the comments by other members made on the blogs and I am just astounded how a bunch of people logging in to lose weight can come together and support and encourage each other. We start out as strangers and through this journey, we become friends. It truly is inspiring and yet another reminder (not that I need one) of why I spend so much time here. I feel amazed at myself for being able to conquer a 4 month plateau that I hit when I signed up for SP and being able to reach my goal. I know for a fact that I could not have done it without the support of SP. This is an amazing place and you all are amazing people!
This quote on my blog picture sums up a lot: Support: One man can be a crucial ingredient on a team, but one man cannot make a team. -Kareem Abdul-Jabbar
I think this sums up a lot here, too! Without the support of each other, I don't think we would do as well as we do!