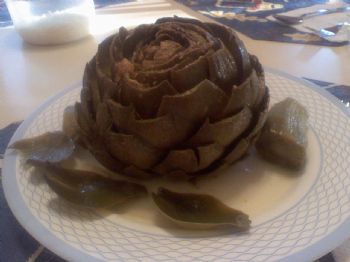 i always ate fruits and veggies and liked them but i never paid attention to how much i actually ate and i recently realized it wasn't too too much, the past week or so i've been paying extra close attention and made sure to have at least 1 serving at each meal and had them and snacks and it's been making me feel pretty good =)
Part of the reason I tried to do this is because i haven't been getting the rec. daily fiber intake and i'm reading more and more on how important fiber is for maintaining a good weight and i also read it's supposed to help with flattening your stomach so it's worth a shot- this whole week i was within the range...i've actually been craving some fruits and veggies too..
artichokes have always been one of my favorite things to eat in the world and i saw the biggest ones i've ever seen in my life at a fruit market on my way to school so i had one for dinner (with a side of turkey and thena veggie burger bc of lent) twice this week...it was delicious beyond words (see the pic i took lol)....i've also been eating a grapefruit a day most days as a snack because aside from tasting yummy i read it's supposed to really help with weight and also arthritis pain...i also have been sneaking berries into my cereal, putting tomato and spinach in my egg whites and just enjoying fruit plain between meals more conciously...
but along with these good eating habits i must admit the past few days me and peanut M&Ms have been having a little affair...my mom won't respect the "out of site out of mind" motto of if i don't see a food and don't know it's there i can't eat it and she leaves bags on them on my dining room table...mix that with the hardcore chocolate craving i get along with my monthly woman friend who stopped by (sorry if TMI) and we have us a disaster...willpower willpower, where are you?..after each meal i usually leave room in my daily caloric allowance for a little chocolate (so i don't turn into satan) but the handfuls i've been taking are more then i should be and i know it...only did it 2 or 3 days but still i shouldn't have...so yes, i'm pissed at myself again because i wil never get the abs i want if i keep doing this crap...at least they were the peanut ones so i got nuts right? that's semi healthy (i'm kidding- nothing about a dam M&M is healthy and i have no excuse for them to be entering my oral cavity)....life would be easier if they just weren't in my house!!!
goal for next week: work on resisting temptation, especially with all the candy that will enter my house for easter (cadbury mini eggs are evi... cadbury mini eggs are evil.... maybe if i say it enough times i will believe it)
exercise wise this week i did really well...didn't miss a weight training session and restarted the slim in 6 DVDs along with them..i started it for the 1st time in summer but went on vacation and forgot about them but recently i've been getting so bored on elliptical i needed something else...i'm going to stick with them this time for at least 6 weeks (some days i did the elliptical with the DVDs...and weights)...
my triceps are making me mad...they don't seem to be toning up the way the rest of my arms are and i don't know why because i do at least 3 exercises to target them...i want sculpted pretty arms soo bad..again, peanut M&Ms won't help my triceps
here's to a week of keeping up my fruit and veggie habit and never touching an M&M again