The Biscuit
Wednesday, March 05, 2008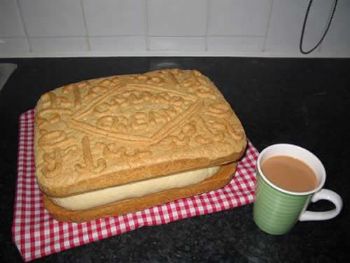 Yesterday when I was drinking my breakfast coffee, I had a desire for a custard cream. I ignored it, because it was grocery day and I had an iced donut in my order and that was to be my "treat" for the day. All morning that custard cream nagged at me, particularly when I had another cup of coffee. I ignored it.
The groceries arrived, I ate lunch, including my iced donut. Had a cup of coffee and that custard cream started screaming at me again. I still ignored it. I had worked out that I wouldn't have many caloried left over after eating my evening meal, particularly not calories for a custard cream, which offers plenty of calories, sugar and fat which I don't need, but very little else in the way of healthy nutrition.
Sometime during the afternoon I had another cup of coffee and once again that custard cream screamed out. This time tho, it jumped out of the packed and kept taunting me, "c'mon dunk me and eat me, you know you want to". On and on it went, relentless in its bullying of me. Sadly, after having held out for about 8 hours, since it first called me at breakfast, I then gave in. Dunked it in my coffee and ate it. It took about 3 bites, and I felt what a waste of calories, and all consumed within seconds. But oh, it did taste so nice!!!!
One of my boys has a birthday later this week. I just KNOW his chocolate birthday cake is going to be the undoing of me lol Will I be able to stick at just 1 x 250 calorie serving? watch this space....for news of my shame or triumph :D