Letter to my scale
Tuesday, February 26, 2008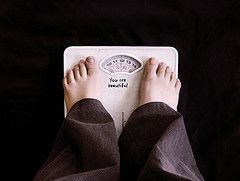 Dear Scale, i don't know what i've done to upset you, but i don't appreciate your recent behavior. i thought we were friends? i give and i give, and i check in with you each day, but lately all you do is ignore me. you give me nothing in return!!
can't we go back to how it used to be? with your display numbers going down a little bit each week? it was such a good relationship, and so honest. even on the days where you jumped up a pound or two was okay. but now, nothing! i can't decide if you're taunting me with that constant number, or just ignoring me!
you need to think about your actions and their consequences. i don't know if i can continue with the relationship unless you can be more supportive. what more do i have to give????