Reality Check...
Sunday, February 24, 2008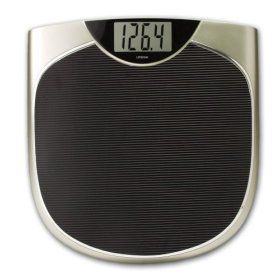 Just purchased the scale in the picture above from target for about $29.99. I figured that if I was going to be serious about loosing weight, I need to be real about just how much I really weigh. I knew I wouldn't get the weight as shown in the picture, which is also on the box. Now that would have been nice! Spark Goal achieved and then some!! LOL I had thought I weighed about 197, but I really weight 204. Not a big difference, but this is the first time I've ever went over the 200 mark.
Its a bit scary, but I think I am closer in weight to my mother for the first time in my life, and she is 5'4" and I'm 5'8". Granted, I am in a much better place then my husband. He is 40lbs heavier then he thought he was and he is 6'4". So I would be REALLY happy to get down to 160, my dream weight would be 150, I think I was a size 10 when I was that weight.
I remember that as a teenager I got really tired of being heavy. So one summer I worked out 6 days a week every morning with ESPN, back when they had workouts on that channel. That summer I got down to 145, no change in eating habits, just excersied and loved it. Many of my friends had accepted me as the tall plump girl, so when they saw "the new me" the were shocked. I got a lot of comments about the weight loss, and all I kept thinking was... damn I didn't think I was "that" fat. LOL
Anyway, even thought its 2 kids, a marriage, and 14 or so years later, I think I can do it again. I may be slower progress then when I was a teenager, but I believe I can do.