Be Gentle....
Saturday, February 23, 2008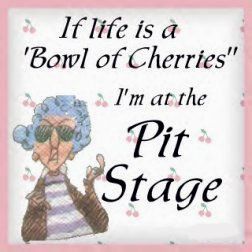 ...it's my first time!!
Ha ha...not exactly, but it has been a long, long time that I've actually written in a blog. I have several of them, all with a couple sentences or paragraphs, a picture or two, and that's where they've stayed. They're under various nicknames and IDs, in the hopes that a pseudonym might "inspire" me to write more. Didn't help! So now I'm back to one of my original nicknames, and one that feels more "right" than any others... VintageBabe!
Hey, what can I say?? I'll be 56 this year - so that classifies me as "vintage" ... and I can be a "Babe" when I need/want to be! Not to count, my S.O. lovingly calls me that as my nickname sometimes. And it "feels" right, so that settles that! LOL
So here I am. A friend on Facebook actually sent me the link to Sparkpeople and I've already thanked her profusely! This seems to be just what I've been looking for these past several years. Yes, years!
You'll have to wait for more explanation on that if you want one, as I'm off to explore more of Sparkpeople and still have my Facebook to check into yet too! If you're on Facebook, look me up... I'm the VintageBabe!!
Until the Next Time
~ Hugs ~